Part of Messiah's Social Ministry's mission is to get an up close and personal idea of where and how our monthly benevolences make difference. While we can't go everywhere and do everything, we do have some opportunities. First is our Buck-A-Chick program – each paper chick represents a chick that will make a big difference! When just months old, these chicks begin laying eggs, which make nutritious, protein-rich meals for families who are hungry. The many extra eggs are often enough to allow a family to start a small business by selling them for additional income.
We Don't Want to Count our Chicks before We're Done but….
Our Buck-A-Chick Lenten project is off to a great start! So far we have enough money to buy 105 chicks through the ELCA's World Hunger program. For just a buck ($1) you can purchase and color a chick and add it to the coop. You can buy chicks for family, friends and neighbors to color and return, or if you aren't "into coloring" Messiah's Sunday School students will be happy to color your chick for you. On April 27th, the Sunday after Easter, we will count our chicks! The funds raised will benefit ELCA World Hunger and help provide families in need with chickens, other animals and the resources they need to escape hunger and poverty for good.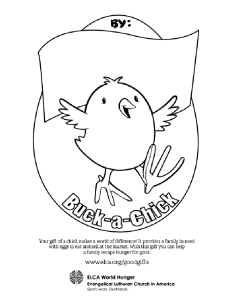 Watch for further information on how you can join Members of Messiah in action!