08/05/1958 Initial Survey of Oakland by Rev. Herbert Hinman.
09/02/1958 The appraisal for the parsonage valued the land at $25,920 and the building at $12,000.
10/05/1958 First Worship service at the Oakland Academy, Yawpo & Route 202.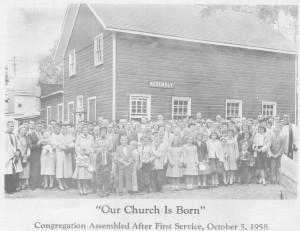 01/1959 Acquired the nearly 4-acre parcel of land on which the church building now stands.
03/08/1959 Official Organization of Congregation with 159 charter members.
06/14/1959 Rev. Hinman installed as First Pastor.
12/11/1960 Groundbreaking for First Unit Building.
09//10/1961 315 attend Dedication of First Unit.
07/21/1963 Rev. Elwood Dietz called as second pastor
03/30/1969 Rev. Otto Jacobson begins to serve as third pastor.
05/16/1975 Groundbreaking Service for new nave, designed by Hassinger & Schwam.
04/03/1977 An historic Palm Sunday with 375 present for Dedication of Church.
01/14/1979 An Allen Digital Organ is dedicated.
03/11/1979 Bishop Herluf Jensen speaks at 20th Anniversary Service
05/09/1985 Messiah's new Softball Team opens season against KOC.
05/09/1985 First Ecumenical VBS at RV Baptist.
09/27/1992 Dedication of Bell Tower.
11/01/1997 Rev. J. David Knecht called to serve as fourth pastor.
09/2000 Contemporary Service began on Saturday evenings with music led by Fred Monk.
09/2004 Contemporary Service moved to Sunday mornings.
03/15/2009 Rev. Julia Haspel-Schoenfeld called to serve as fifth pastor.
Throughout these 50 years we have supported a variety of mission and service projects .
St. Paul's Community Development Center Mahwah Center for Food Action Meals on Wheels CROP walk a dedicated group of women who knit for TLC Ministries Oakland Refugee Concerns Committee Oakland Cares program Lutheran Braille Workers Scouting for Food.
Some of the Benevolence of the Month: LAMP Seafarers Intl. LSMNJ Lutheran World Relief Doctors without Borders Star of Hope Mission Heifer International Shelter Our Sisters as well as Missionaries in various areas of the world.